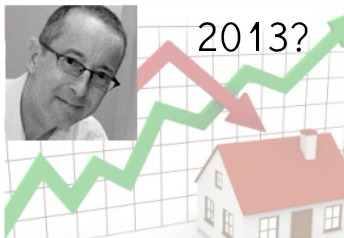 Unemployment is down, mortgage lending is up. House prices are rising, up by 7.9% from the previous year, and not just in London. According to Barratt's CEO Mark Clare "the recovery is spreading, the housing market, stalled for so long, is on the move".
And it's not just housing. Manufacturing and construction are heading in the same direction*. The government claims, and not without justification, that the economy is turning a corner. But what that corner looks like all depends on where you are standing and which way you are looking.
If you are one of the major housebuilders you'll recognise the picture above. The government's tranche of Help to Buy, New Buy and First Buy initiatives have given the housing market a much-needed boost. The big players have the money and the appetite, and thanks in part to the NPPF's presumption in favour clause, the greenfield sites to invest that money in.
So much for the sunny side of the street.
If you are not one of the big players, and 90% of housebuilders we have on our books aren't, the view looks quite different.
The smaller housebuilders are chasing the banks and the banks still aren't lending. Which leaves landowners who have smaller plots chasing their tails. On one side of the street the price of land is going up, on the other it is going for a song.
And what of the economic recovery? Certainly there is a demand for more housing and now there is more cash available house prices are sure to rise. Just take a look at the Barratt figures**. But the reality is things take time. Getting planning permission - often tied up with buying land - followed by construction can take years. Whilst the pressure for house prices to rise remains (demand will continue to outstrip supply for the foreseeable future) house prices, hampered by the time it takes for the market to catch up and the banks continued reluctance to lend, will continue to remain lower than we might otherwise expect.
For those who have the cash and the foresight to invest on the other side of the street the pickings could be rich. And we are certainly beginning to see some interesting movement in that area of the market. But only for as long as the banks continue to hold the purse strings tight and the big players are looking the other way. A change in either and everything could change.
And that's how it looks from the side of the street we are standing on.
* Source: http://www.bbc.co.uk/news/business-24044840
** The group reported pre-tax profits for the year to the end of June of £104.8m, up from £100m the previous year. Its average selling price rose to £194,800 up 7.9% from the previous year's figure of £180,500.
read all about it
Land Matters
the latest news on land for sale, land that's sold and land that's selling. read more
Future Landscapes
a no nonsense look at what's happening in the land of planning, housing and development. read more